Until 2004, I worked exclusively in clay. While attending a week long architectural ceramics class, I met a woman who was going to the Society of American Mosaic Artists' Conference in San Francisco that year. She invited me to come, and on a whim I decided to join her. As a part of the conference, I took a class with the founder of the Tempered Glass technique, Ellen Blakeley. She is an amazingly talented artist. You can see her work here. www.ellenblakeley.com 
After that class, I was hooked and my first years creating in mosaics was all tempered glass. Most of the work combined clay in the piece in some way. What I love most about the technique, is how it makes your mosaic become almost three dimensional. It's a layering process and all the color you see in the piece is mostly underneath clear glass. You can incorporate photos, paper, ribbon, fabric, leaves, and anything else that is perfectly flat.
Below are some photos of work I have created using tempered glass. Come join in for a super fun weekend of learning and creating.
Commission piece with a handmade ceramic dragonfly with tempered glass wings surrounded by a field of tempered glass with mirror tile accents.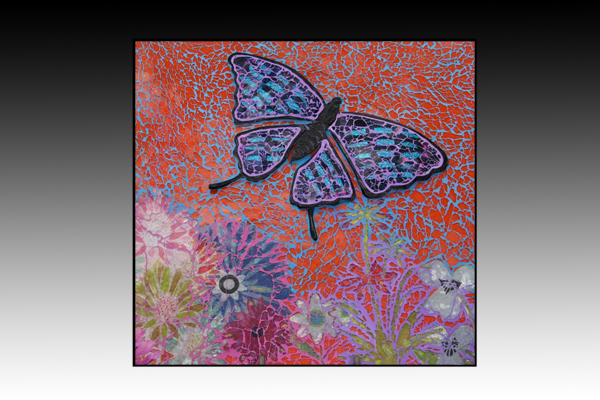 This butterfly combines a ceramic butterfly that has tempered glass in the wings. It's set amid a field of tempered glass with beautiful art papers incorporated. It measures 30″ x 30″ and was purchased by a gallery owner in Half Moon Bay who I was represented by.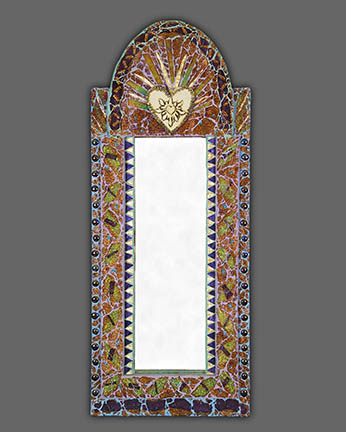 This is my favorite piece I have made in tempered glass. The ceramic heart at the top was made after 9/11. I had a friend call and say she was having people over to build an altar and grieve together over what we had lost. I saved the heart and incorporated it into this piece. I really should never have sold it, as it held such special meaning for me.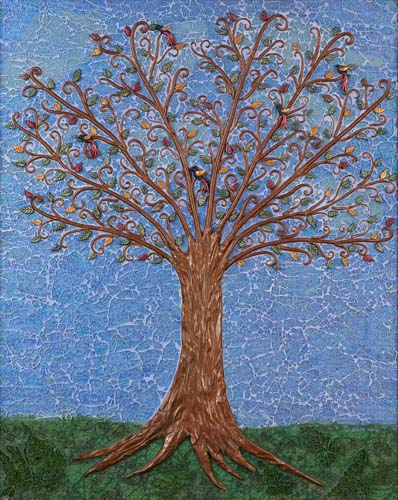 This Tree of Life piece incorporates a ceramic tree, polymer clay birds and leaves, and real fern leaves. The dimensions are 32″ x 46″ and it was purchased by a collector in Auburn, CA.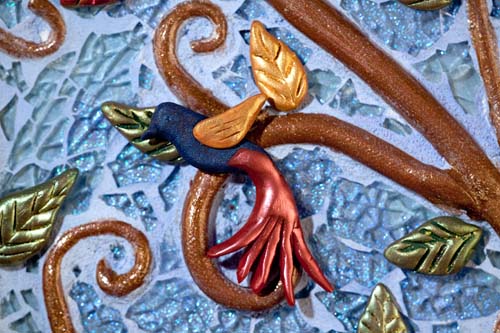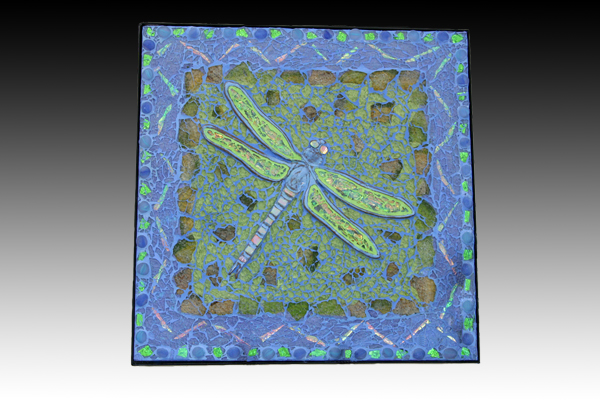 I've created lots of ceramic dragonflies in my pieces using this technique. This was one of my first bigger tempered glass pieces and it incorporates ribbon, glass gems, foil, and real hosta leaves. This one was purchased by a collector in Nevada City, CA and is  24″ x 24″.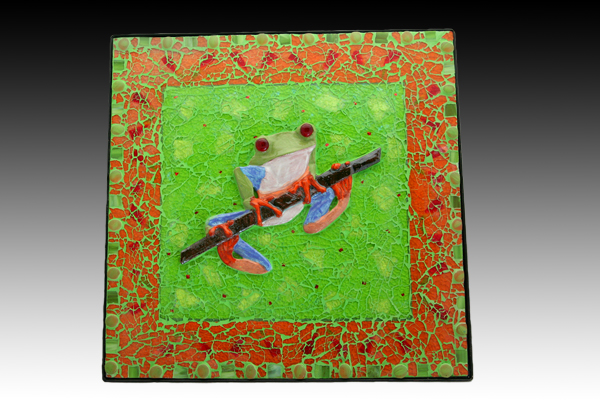 This tree frog and branch are ceramic and it are surrounded by a field of tempered glass with a border of glass gems. It was commissioned by a collector in Nevada City, CA and is 20″ x 20″.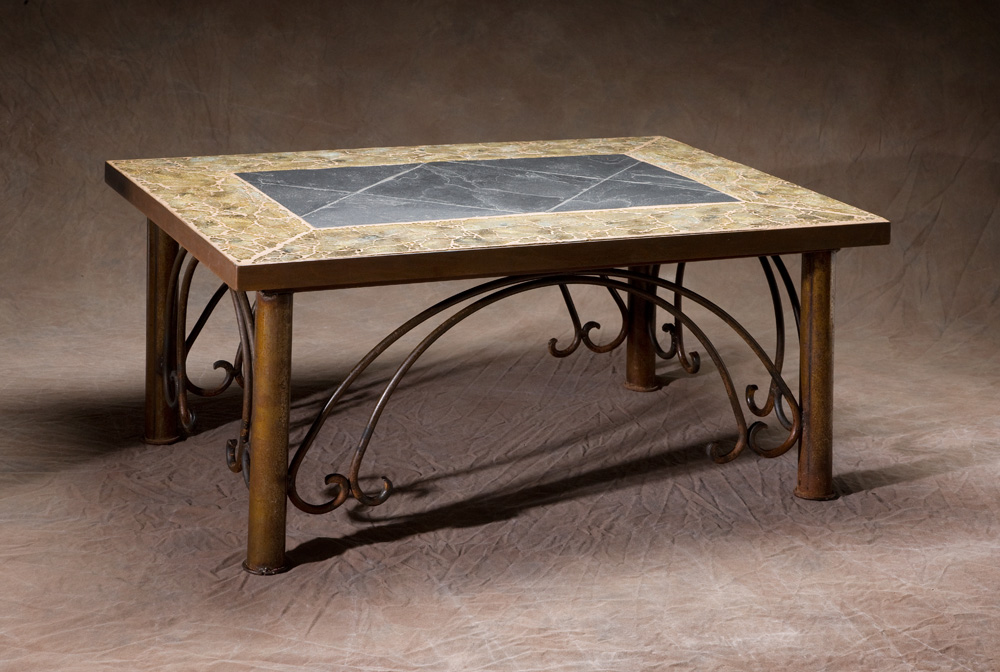 This coffee table combines a slate center surrounded by tempered glass. It was a commission for a family in Grass Valley, CA and is 30″ x 48″.
This bowl is representative of what you can do in this two day class. This is one of my favorites and is 16″.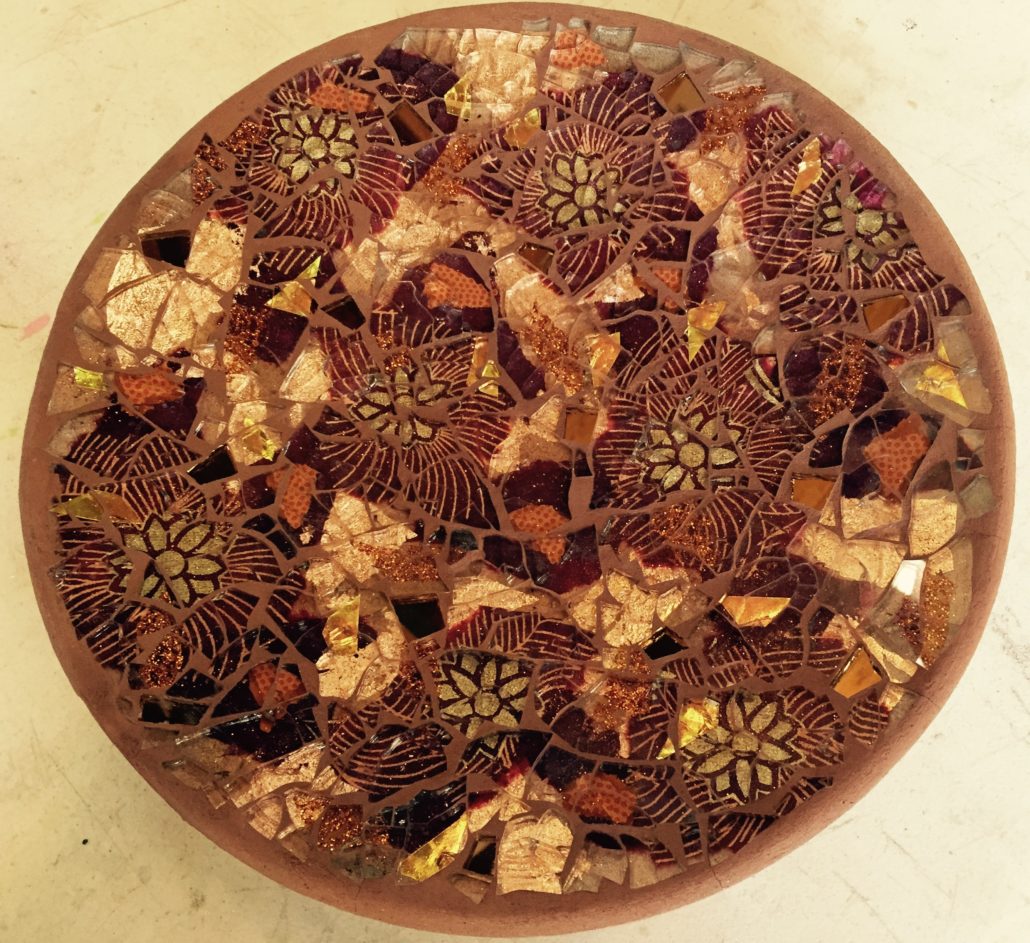 https://www.marsharafter.com/wp-content/uploads/2017/07/Blum-dragonfly-e1500990580460.jpg
613
600
Marsha Rafter
https://www.marsharafter.com/wp-content/uploads/2016/07/MR-Logo-Transparent.png
Marsha Rafter
2017-09-06 11:15:32
2017-09-06 11:24:43
My History in Tempered Glass Mosaics